Super Twin / Super Twin T
Regular price £1,299.00 Sale
How can so much volume, so much midrange punch, so much fat bottom and such sweet venue-filling treble come from a cab that's so easy to move?
The purity of two 12XN drivers in a highly optimised enclosure, no tweeters, no crossover - just added simplicity. Replaces cabs twice its size and many times its weight. Goes loud with very little power, goes VERY LOUD with loads. As always with Barefaced, outstanding dispersion because that matters!


Features
Dual 12XN extended-range high-accuracy drivers
Monocoque Spaceframe enclosure
Vertical slot port and thermal convector
Consistent polar response when vertical or horizontal
Dual side strap handle
Top strap handle
Tiltback wheels and large rubber feet
Nickel-plated 2/3-sided steel corners
Dual parallel combi speakon + 1/4" sockets
Durable textured acrylic finish
Powder-coated black steel grill
Optional high strength silver cloth grill
Specifications
Dimensions
(H W D)
74cm 48cm 34cm
29" 19" 13.4"
Weight
Steel Grill
18kg / 40lbs
Cloth Grill
17kg / 37lbs
Broadband Sensitivity
100dB
Max Amp Power
1200W RMS
Max Output
~133dB
Frequency Range
30Hz -4kHz
Impedance
4 ohms
Customer feedback
26/11/23 - Super Twin - UK
I've got a Super Twin that I bought from you five or six years ago, best cab I've ever had. I want to add another 12 to it and have the chance of a Midget at a very good price, laid on it's side the Super twin would stack almost perfectly on it, is this going to work, as in will the drivers work well together? I'm assuming they're identical drivers. My amp is a Mesa D800. Thanks
Steve
Alex says:
Hi Steve,
Do you mean a Midget or a Super Midget? If the latter, then yes they're 12XN drivers, same as the Super Twin. If the former, then that's a 3012HO with quite a different sound (more mids, less bottom, less top, and less clean and smooth sounding), and less power handling.
We do make a really nice little 1x12XN cab that's made for stacking on the Super Twin, called the Super 3rd:
Glad the ST is performing well!
---
29/09/23 - Super Twin - USA
Just wanted to let you know the Super Twin arrived in good shape yesterday. I haven't had a chance to play out with it at volume yet but man does that thing ever sound good here in my studio. My Fender Neo 410 could never quite get the tone of my GK head. This thing sounds incredible with it.
Thanks!
Benny
---
10/11/23 - Super Twin - UK
Hi this is me with my ST at Winchcombe festival summer 2023 playing with my 10 piece reggae/hip-hop band Dub Catalyst. The ST is perfect for dub reggae, even on a big stage like this and projects the sound really well.
Dan Watson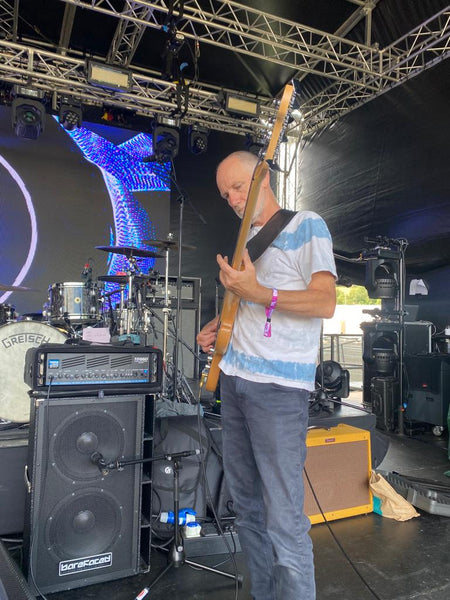 ---