Usurper 210 / 112W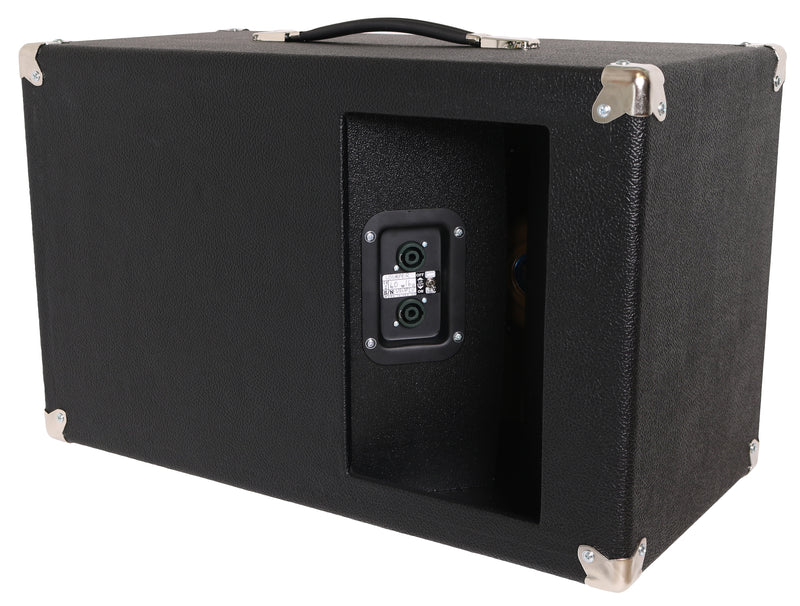 Regular price £399.00 £699.00 Sale
The Usurper 210 is the cab to fill that special double 10" niche - brighter, clearer, "quicker", than a 12" but with plenty of efficiency and output. Big enough to look cool on-stage, small enough to be easy to gig with. With its unique AVD enclosure you get a bigger sound than a normal 2x10" and outstanding room-filling dispersion.

We now also offer a custom 1x12" version of this cabinet, the Usurper 112W, for guitarists who want a wider version of our Reformer 112 to fit neatly under larger amp heads.

The AVD uses the rearward cone output to generate and disperse additional broadband output to fill the room with tone. Our side-by-side speaker cabs (2x10" and 2x12" have a single AVD behind just one speaker as standard to maximise horizontal dispersion and give a thicker/chunkier tonal balance. If you prefer you can order a dual AVD customisation for a more open tone or to get the full AVD sound from both drivers if you've customised your 210 with mixed speakers.
Finally to ensure maximum frontal dispersion, the driver in front of the AVD runs full-range but the other is low-passed with our Barefaced Line Array crossover, so the treble doesn't conflict and narrow the polar response. No longer will you have to lurk in that narrow cone of tone and finally you'll be able to consistently get that Goldilocks mix, not too loud, not too quiet, just right - both on stage and in the audience.
As standard it's loaded with two Celestion G10 Vintage loudspeakers, giving 120W power handling and buckets of authentic tone. But if your sonic preference differs, you can customise it with a selection of Celestion 10" guitar drivers, or even have it unloaded! If customising the drivers or ordering an unloaded cab, please let us know if you'd like the Barefaced Line Array crossover to be deleted so you hear all the treble from both speakers.
Barefaced Usurper 210 / 112W Guitar Loudspeaker Cabinet
All prices include shipping to wherever you are in the world - select your region to see the correct price for you!
Current time to dispatch? Click here to check our production lead times page!
Specifications
Stock - G10 Vintage
Custom - Min/Alt
Dimensions
(H x W x D)
38cm x 61cm x 31cm
15" x 24" x 12"
Weight
14 kg / 30 lbs
12 kg / 26 lbs (Ten30)
Drivers
Celestion G10 Vintage
Four other Celestion tens to choose from
Enclosure design
AVD+
RMS power handling
120 Watts
60W RMS (Greenback/Ten30)
Nominal Impedance
16 ohm
(4 or 8 ohm also available)
Features
Innovative internal design - Barefaced AVD enclosure for superior audibility, efficiency and power handling
Low-cut filter toggle switch
Choose from a selection of Celestion 10" speakers. The iconic Celestion G10 Vintage fitted as standard.*
Either a black or silver cloth grill with white piping.
British Raging Green or Black in Black tolex.
Single top strap handle
Rubber feet on base and side
Dual combi 1/4" + speakon sockets

*Additional customisation fee applies. See below.
Questions
Traditional guitar loudspeaker designs.
There are basically two sorts - closed-back and open-backed. Open-backed because they were combos and needed to keep the valves cool and accessible for servicing, closed-back and sealed because that's how most speakers were made in the 1960s.
How does that affect using them?
The closed-back cabs have narrowing dispersion as frequency increases (a hi-fi speaker uses smaller speakers for higher frequencies to reduce this problem). The open-backed cabs fire sound out of the back as well as the front, so although the dispersion narrows from both front and back in much the same way as the closed-back cab, the sound coming out of the back helps fill the room with mids and highs - but that sound out of the back cancels out most of the lows (due to the inverted phase as the back of the speaker pulls when the front pushes and vice versa). In other words, open-back cabs are easier to hear around the room but the lows are thinner.
How is the Usurper 210 different?
From the front it behaves much like a closed or open-backed cab. But the mids and highs coming out of the AVD at the back are amplified and dispersed around the room whilst the lows are inverted to match the lows from the front, giving lots more bottom. Basically you get twice the output of a closed back cab with an identical speaker AND even better dispersion and audibility (and far far greater output) than an open-backed cab.
What is AVD?
You see it when you look at the back of the cab - it's the Augmented Vent Diffractor. It's a unique patended technology that we started developing back in 2013. At low frequencies the AVD and the separate tube port act as tuned vents or Helmholtz resonators, improving efficiency, power handling and output. At mid and high frequencies the AVD acts to diffract, disperse and couple the sound with the room for improved audibility and output especially in rooms with poor acoustics.
What is the Lo Cut filter for?
The increased low frequency output from the AVD may be too much for some guitarists' tastes - so you can flick this switch and remove lows at the cab. Doing so not only changes the bass response but also increases the power handling of the cab, lowers the distortion due to motor excursion and reduces the load on your amp's output stage. This can give you two different sweet-spots of optimum speaker overdrive or break-up and two different sweet-spots of power valve overdrive. If your sound is perfect in rehearsal but too dirty at a louder gig then engaging the Lo Cut filter will clean it up.