Celestion G12H-75 Creamback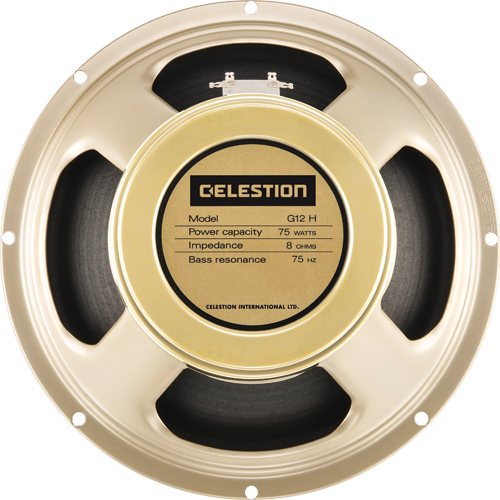 Regular price £36.00 Sale
The best of Celestion's guitar speakers are available to customise the sound of your Barefaced AVD cab. Add your cab to the cart on the relevant product page and then add the speaker here. The price you see here is the cost we charge to replace the stock Vintage 30 with this custom driver.

If you're ordering a 2x12" or two 1x12" cabs, don't forget to add two drivers! If you only want one custom driver and one stock driver in a 2x12" or two different custom drivers, please email us to explain where to put each driver (top or bottom, left or right). We'll fit the impedance stated in your cab order. Email us if you're confused!
Celestion G12H-75 Creamback
Back in the late 60s, the G12H was created by fixing an 'H' type (heavy) magnet to the body of a G12M guitar speaker. Result: a speaker with more power and a different tonal balance: firmer bass and a more pronounced top end. So we added an 'H' magnet to the G12M-65 Creamback, to create a guitar speaker that delivers the sonic signature of a G12H combined with Creamback levels of power handling. The result is the G12H-75 Creamback. It delivers 75 watts of power handling with ease and has unmistakeable G12H tone, with a tighter low end than the G12M-65 Creamback and a punchier, more dynamic high end. The H magnet brings additional focus, body and girth to the Creamback tone. It thickens single notes, resulting in a highly articulate, vocal character. These additional characteristics mean that the G12H-75 Creamback offers exceptional performance when used for lead guitar and sounds massive loaded into a 4x12 cab!
| | |
| --- | --- |
| Power rating | 75W rms |
| Impedance | 8 or 16 ohm |
| Sensitivity | 100dB |
| Frequency Range | 70Hz -5000kHz |
| Magnet Type | Ceramic |
| Speaker Weight | 4.7kg / 10.4lbs |
| Weight difference vs stock V30 | 0kg / 0lbs |
Customer feedback
14/11/22 - Reformer 112 (G12H-75 Creamback) - USA
I've had 2 gigs with the Reformer 112 and absolutely love it. Since I am in 2 different bands and the other band plays many outdoor festivals, I am looking to purchase the uprising 212V but have 3 questions.
1) What Ohm ratings should those speakers be and would they be wired in parallel or series? (my current amp is a custom tube amp around 22Watts and it has an 8 Ohm output as well as a 4 Ohm output, however, I don't want to limit the possible use of other amps)
2) Could I also add my current Reformer (with an 8 Ohm speaker) to this set up and drive both cabinets?
3) Have you ever made a 4x12 monster? Or, would question #1 answer change if I wanted to drive 2 Uprising 212V cabinets?

I guess overall, I would like a 212V but didn't want to limit myself possibly expanding cabinets.
I wish I understood the Ohm speaker ratings better when expanding.
Thank you so much for your help! All who heard this cabinet these last 2 gigs were very impressed!
Cheers
Brian

Alex responds: 1. This depends on 2!
2. So as you've got an 8 ohm Reformer, I'd get a 4 ohm Uprising 212V. You can then use the Uprising on the 4 ohm tap, and if you want to use both cabs you can daisy-chain them off the 4 ohm tap for a 2.7 ohm total load (which your amp will be totally fine with).
3. We haven't made a 412 guitar cab because there's hardly any situations nowadays when it's a good idea - and because of that you're generally better off with a pair of 2x12" cabs so you can leave one behind when you don't need crazy loud output on stage.
---