Celestion Gold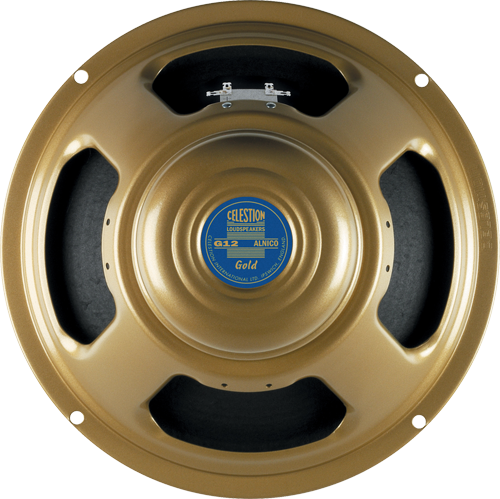 Regular price £174.00 Sale
The best of Celestion's guitar speakers are available to customise the sound of your Barefaced AVD cab. Add your cab to the cart on the relevant product page and then add the speaker here.

 

The price you see here is the cost we charge to replace the stock Vintage 30 with this custom driver.

If you're ordering a 2x12" or two 1x12" cabs, don't forget to add two drivers! If you only want one custom driver and one stock driver in a 2x12" or two different custom drivers, please email us to explain where to put each driver (top or bottom, left or right). We'll fit the impedance stated in your cab order. Email us if you're confused!
Celestion Gold - Alnico
Building on the platform of the Blue, the Gold is a higher-powered, Alnico-magnet guitar speaker that recreates the unmistakable sonic signature of a 'well played-in' original. Over time, the high frequencies of a Blue soften and become less chalky as the cone becomes more flexible - a much sought after characteristic that the Gold exhibits straight out of the box. Also present in the Gold sound from the outset is an added warmth and complexity in the midrange which, coupled with the classic Alnico qualities of a laid-back attack, rounded low end and brilliant bell-like highs, deliver huge rhythm voicings and saturated vocal lead tones.The Gold is a wonderfully expressive and revealing loudspeaker, affording guitarists an unprecedented degree of dynamic control. It has already become a favourite for many working players worldwide whether picking and bending with Brad Paisley, or rocking hard with Danny Spitz of Anthrax.
| | |
| --- | --- |
| Power rating | 50W rms |
| Impedance | 8 or 15 ohm |
| Sensitivity | 100dB |
| Frequency Range | 75Hz - 5kHz |
| Magnet Type | Alnico |
| Speaker Weight | 4.2kg / 9.3lbs |
| Weight difference vs stock V30 | -0.5kg / -1.1lbs |
Customer feedback
19/12/22 - Reformer 112 (Gold) - USA
I think it sounds very nice, it's not broken in but it's sounding good already

I'm using it as an alternate speaker at this point for the Mesa blue Angel, which is a 4 x 10 alnico,

playing in stereo with a 50s silvertone both are 6V6 amps
---
18/11/22 - Reformer 112 (Gold) - USA
The Cab is great!

BUT, I've only played one gig since the pandemic started
and it looks like we are getting a big winter wave of cases here now
So no gigs until next year

I have been doing a monthly video show
the Halloween show is fairly amusing:

https://www.youtube.com/watch?v=_aUDC1pePdc

best, HK
---
16/11/22 - Reformer 112 (Gold) - Germany
First of all, i am very happy with my reformer 112 cab.
Now looking for the new ursuper210 standard version.

I'm reading from the description that the cab comes with both rubber feet on base (horizontal use) as well as sides (assume for vertical use).
Is that correct, can this cab being used both equally horizontally as well as vertically?

Furthermore, is the speaker wiring made in parallel, or can I at least opt for parallel wiring, just to get total 8 ohm resistance from 2 pcs G10 16 ohm, speakers?

Many thanks for your quick reply.
Hanno

Alex responds: Glad the Reformer 112 is performing well! As standard the Usurper 210 only has feet on the base (long side). You could add extra feet to use it vertically but then it won't fit in our official Barefaced cover. It works best horizontally but will still work better than a normal cab vertically. You can now select your impedance/wiring on the product page when ordering a guitar cab from us.
---